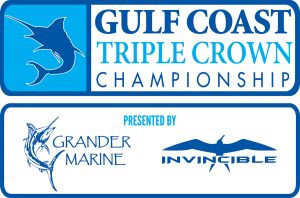 The Wharf; Orange Beach, Alabama:
Celebrating its ninth season in 2019, the prestigious Gulf Coast Triple Crown Championship will feature a couple of important changes to the series, including new sponsors. Grander Marine and Invincible Boats are coming aboard as the new 2019 Presenting Sponsors. The pairing is a good synergy on several levels.
"I personally like to fish the Triple Crown tournaments and have been part of a team that was in contention previously," says Grander Marine owner and angler Chris Bazor. "Our company sells new boats, brokerage boats and offers service, so sponsoring the series is a good way to help fellow contestants and promote our business. We'll be competing aboard a 40 Invincible catamaran this season, so we figured why not? The owner of Invincible Boats is a passionate offshore angler too and the company builds some of the best quality mono-hull and catamarans in the sport-fishing industry, so it was a natural partnership."
Grander Marine has a showroom and full service facility on Canal Road in Orange Beach, Alabama. Another satellite facility is scheduled to open later this summer. In addition to being the Gulf Coast dealer for Invincible Boats, Grander Marine also carries a full line of premium fishing and pleasure boats as part of its line-up. The Blue Marlin Grand Championship, the final leg of the five-tournament series, is held at The Wharf Marina in Orange Beach.
GCTC Director Scott Burt also commissioned a commemorative trophy that will be on permanent display at The Wharf Marina's Outfitter's Store. Created by marine metal artist Frank Ledbetter, the perpetual trophy will sit atop a rotating base and will feature all previous Triple Crown Champions. The team trophy, another stunning marlin sculpture crafted by Ledbetter, will be awarded annually to each champion.
There will be no rule changes for the 2019 season, Burt announced. Feedback from teams indicated satisfaction with the status quo. There will be an added financial component in the Optional Cash Award category, however. A new $25,000 winner-take-all prize will be awarded to the top team entered in the optional category. Teams wishing to participate in the Optional Division must sign up prior to the first event, the Orange Beach Billfish Classic, May 16-19, at The Wharf Marina. The scoring format for the Triple Crown points will remain the same as 2018.
Following the OBBC, the Triple Crown focus shifts to Venice, Louisiana, May 28 through June 2, for the Cajun Canyons Billfish Classic. The Mississippi Gulf Coast Billfish Classic kicks off June 3 through 9 in Biloxi, followed by the Emerald Coast Blue Marlin Classic later in the month (6/19-23) at Sandestin. The Blue Marlin Grand Championship wraps up the Triple Crown competition July 9-14.
For more information on rules or the optional cash award levels, please visit: gulfcoasttriplecrown.com