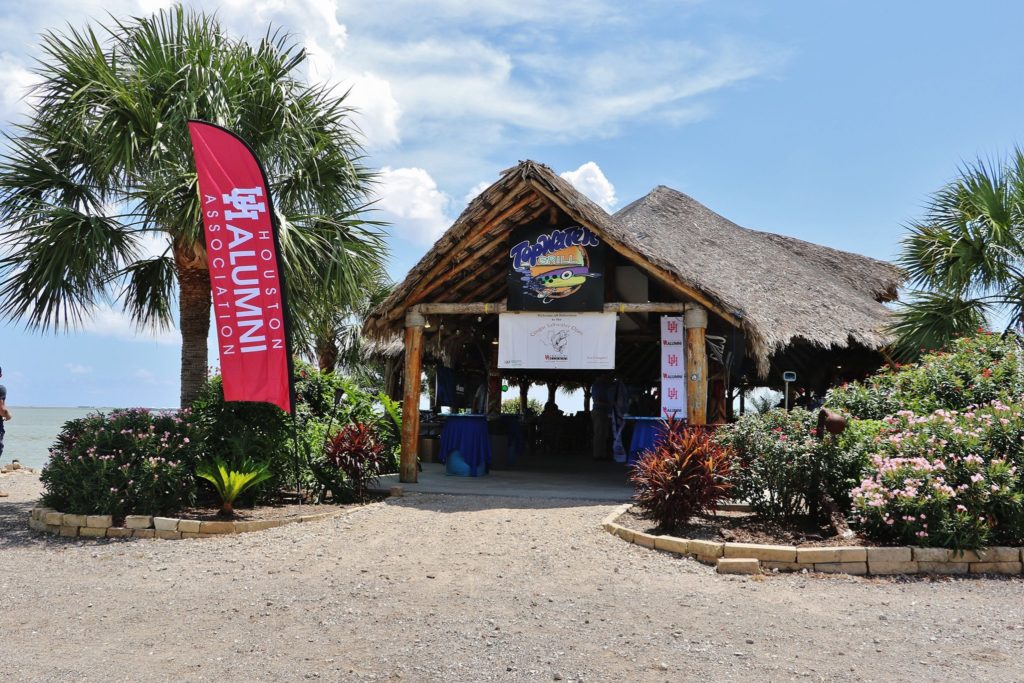 By Kelly Groce
On Saturday, Aug. 17th anglers fished the Galveston Bay Complex for the 12th Annual Cougar Saltwater Open presented by the University of Houston's Jack J. Valenti School of Communications Alumni. Being a graduate from the school of communications, it was an honor to become co-chair and help organize this tournament with the guidance of Kimberly Maraldo. With the funds raised from this tournament going to scholarships for the communications school, Gulf Coast Mariner Magazine was proud to be the media sponsor.
Scattered rain showers and wind didn't hold the participating fisherman down that included men, women and kids. Individuals and teams brought several nice trout, redfish and flounder to the weigh-in at Topwater Grill in San Leon.
Attendees enjoyed complimentary beer from Galveston Island Brewing and whiskey from Nine Banded Whiskey. Calavera Cookers served up some tasty BBQ and pulled pork as everyone visited and enjoyed the shady palapa.
Huge thank you to all the sponsors that help make this event possible; Okuma Fishing, Bombshell's, Triumph Cabeling & Underground Services, Lonestar Integra Insurance Services, Essentia Water, Houston Sign Company, Calavera Cookers, Cavern Solutions Inc., FS&MG Frontier Sales & Marketing Group and Gulf Coast Mariner Magazine.
Also, thank you to all the in-kind donors such as; Traw Metalworks, Nine Banded Whiskey, Sugar Land Skeeters, Texas Rattling Rigs, D.O.A. Lures, Elaine Ebner, Cougar Pride, Patty Godfrey, Emilee Fontenot, Cathy Coers Frank, Ralph Morales, Judy Wheeler, Alan's Swampshack, Saltwater Soul, No Label Brewery, Laguna Madre Clothing Co., Typhoon Texas, Raising Canes, Karbach Brewery, Kendra Scott Sugar Land, Leslie McDonald Jr. and Galveston Island Brewing.
Congratulations to all the winners and everyone that participated in this fun tournament. We will see you next year. Go coogs!
COUGAR SALTWATER OPEN WINNERS:
KAYAK/WADE DIVISION
TROUT
1st John Liles
2nd Mike Brown
3rd Grant Justice
REDFISH
1st Jason Blackwell
2nd Grant Justice
3rd Rayfield Conley
FLOUNDER
1st Grant Justice
2nd Vince Rinando
BOAT DIVISION
TROUT
1st Mason Dees
2nd Rafael Pedraza
3rd Arturo Garcia
REDFISH
1st Audra Gould
2nd Mark Gould
3rd Mason Dees
FLOUNDER
1st Arturo Garcia
2nd Tracy Smith
HEAVIEST STRINGER
John Liles – 12.34 lbs.
SHASTA'S PICK
1st Bradley Brown
2nd Rayfield Conley
3rd Leslie Bandiera