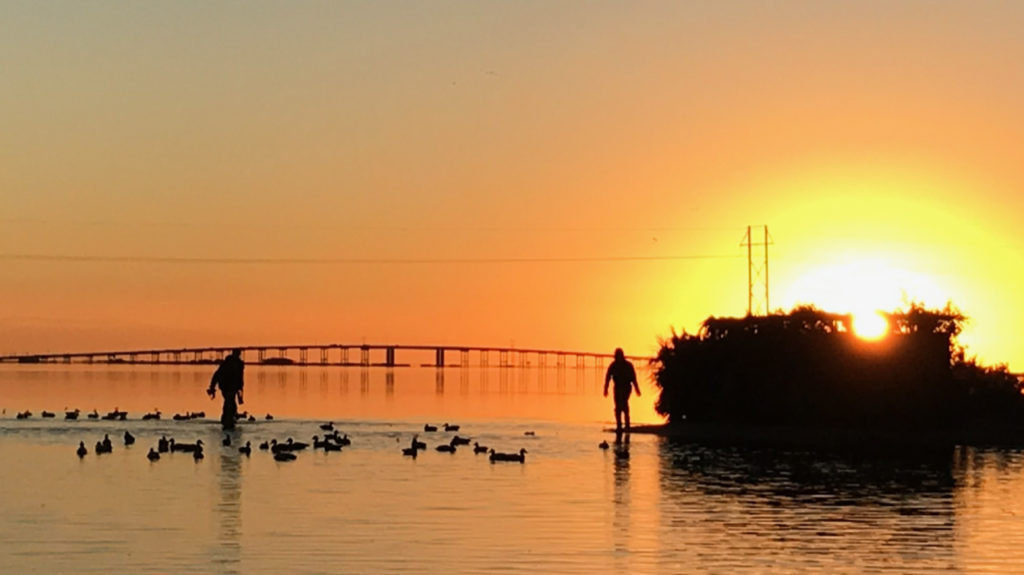 By Capt. Joey Farah
Marbled skies of fall color hold waves of waterfowl, and hover over some of the best bay fishing in the world. Here in Texas we are blessed to enjoy the harvest basket of winter sports. Combining fins and feathers brings days of duck hunting and fishing together. Hunting waterfowl can be a excellent and easy way to introduce youth and inexperienced hunters to the hunting sports. For seasoned hunters, the beauty and strategy of the hunt, and the game taken fulfill the wild spirit in each of us. This winter come experience hunting and fishing the right way; cast and blast Texas style!
CAST FOR FINS
The bays come alive with coastal gamefish as air and water temperatures drop. Deeper water and softer bottoms hold smaller creatures that help get these fish through the winter months. Shrimp, crabs, mud worms, clams and mollusks, are just some of the building blocks of the food chain. Small minnows, baitfish and sport fish follow. These gatherings, and favorable water conditions, group winter fish in areas that fishermen can enjoy some awesome catching.
Strong cold fronts may seem like a good time to stay inside and dream about boiling hot summer days on the water, but then you'll miss some of the best fishing of the year! Whipping winds roll the bottom and bring up those hidden food sources. Redfish, trout and black drum go into a feeding frenzy with each cold front. The first day or two is usually the best; those beautiful sunny third and fourth days are usually too pretty and fishing slows. The colder the water gets, the longer it takes fish to digest their meals. This can make feeding patterns predictable but spread out. Watching the lunar feeding tables will help anglers score the right times to be on the water. Here in the Laguna Madre and Baffin Bay Area we find some of our best fishing both close and far from the dock. The flats of the Laguna Madre hold an enormous amount of bait, which migrates into the ICW Canal when it gets cold. Schools of gamefish follow, putting all those fish in one area.
We work the edges of the drop off with soft plastics for some of the most insane trout and redfish action you have ever seen! Fall bait favorites are easily the 3" DOA CAL Shad. This is the perfect imitation of a small pinfish or mud minnow. Colors should include pumpkinseed/chartreuse, purple/chartreuse, blood red and glow. The larger 5" Jerk Shad is my go-to bait for big trout in the shallows with a light 1/16 oz. DOA jighead. This combination floats and flutters like a sand eel looking for any way out of becoming a meal! The 3 and 5" DOA jerk baits also fit the bill. They imitate both a fleeing minnow as well as the sand eel profile.
The best time to hook up on the hard fighting, great tasting black drum is now! The schools of drum gather during the winter months to feed on small clams and crab. We bring in limits of these fish all winter. Live shrimp works best, as well as crab and sea lice. The absence of trash fish and pin perch during the winter months makes fishing with shrimp much easier. The rock piles of Baffin Bay and the fish funnel to the south the Land Cut, are famous for their winter fishing greatness. We anchor up on those big rock piles and use live shrimp deep under popping corks to load the box with drum, trout, and reds.
When the temperatures really drop low, we find redfish fall off of the flats by the thousands into the deeper holes. Catching big redfish every cast can be an out of body experience! Last winter we had one morning where we brought 60 redfish to hand with three anglers in about three hours! Don't let the heater keep you out of the best fishing of the year this winter, come experience miles of grassy flats boiling with excitement.
BLAST FOR FEATHERS
Like a squadron of fighter jets, the flock of descending ducks rounded the blind and cupped in for a landing. As their feet opened for the landing, fire erupted from the line. The lead birds dropped and a few more pops dropped two more. As the ripples stretched across the sky mirrored surface, my dog leaped across the flat for the first feathered trophy of the morning.
Big game hunting is expensive and puts the stress and buildup into one shot, one trophy. Waterfowl hunting is about ACTION! Diverse species are found with each duck specialized in its own way for feeding and flying. Colors like the most beautiful skies highlight their body in a rainbow of beauty. Young hunters can grasp gun safety, responsible shooting and hunting, as well as the idea of taking a life much easier, with waterfowl versus big game hunts.
The fact that I have the best and biggest, most comfortable duck blinds makes gathering friends and family much easier. We make it easy for you to hunt hard. My clients are still high and dry in days of rain and 40 mph north winds
We usually hunt some big sets with over 250 decoys for a mixed bag and lots of action. We use smaller, more specific set ups for trophy birds and particular species. Advanced hunters are usually looking for their favorite species; this is a lot of fun hunting and setting up for that perfect trophy bird for the mount. It is sometimes hard to convince the wife to hang big deer heads on the walls. Beautiful birds go up easier in the house and office.
Ducks have some defining patterns that you must consider on the hunt. They eat, fly, rest, drink and roost. As a group, inside the region there will be some ducks doing all of these things at any given time. Ducks also trade places between the areas they do this. We hunt all day! Don't be fooled into going in after 9 a.m! Many times you will be missing the best activity. Much like fish, the lunar feeding tables mirror their activity. They will be feeding at peak times, but traveling and landing in your decoys before and after those peak times.
Ducks always want to land with the wind in their face. Hunt where they want to be, and not were you want them to be. Birds of a feather flock together holds true. Species will land and sit with their own kind even in flocks of thousands. Motion decoys in your spread can make or break you, so don't be set in your ways. Make changes with the actions of the birds. Calling can bring ducks in from afar, or scare them away. Soft calling is best. We don't have a lot of loud and vocal mallards here on the coast!
This winter come experience the beauty of the Texas coast with some fins and feathers! We will be here to help you start off right and make every adventure a success. Hunt smart and safe and always be a good ambassador of the hunting community.
We can accommodate the smallest and largest groups, just like welcoming you into my home. Get out and enjoy the best hunting and fishing in the world, right here in Texas! Follow all our blasts and casts on Facebook AT JOEY FARAH'S BACKWATER FISHING or call 361-442-8145.